Reverdia Company Overview
Commercializing Biosuccinium™ Sustainable Succinic Acid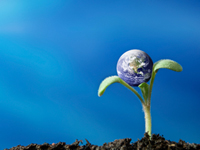 In June 2010, Royal DSM N.V., the global Life Sciences and Materials Sciences company headquartered in the Netherlands, and Roquette Frères, the global starch and starch-derivatives company headquartered in France, announced the signing of a joint venture (JV) agreement, named Reverdia, for the production, commercialization and market development of Biosuccinium™, sustainable succinic acid.
Biosuccinium™ is the first non-fossil feedstock derived chemical building block that allows customers in the chemical industry to choose a bio-based alternative with a lower eco-footprint for a broad range of applications, from packaging to footwear.
Since early 2008, we have been working to develop the best and most sustainable fermentative technology to produce bio-based succinic acid with testing volumes of Biosuccinium™ produced in a demonstration plant in Lestrem (France) built in 2008.
Reverdia, powered by industry leaders DSM + Roquette, provides bio-based products worldwide.
In May 2011 Reverdia announced the construction of a commercial-scale plant for the production of Biosuccinium™ sustainable succinic acid.
In December 2012 Reverdia began operations in Cassano Spinola, Italy as the world's first dedicated, large-scale plant for the production of succinic acid from renewable resources. The 10,000 tonnes/yr plant was the first of its kind commercial facility using low-pH yeast technology to enable the production of a high quality, environmentally friendly product.
In October 2014, Reverdia announced that it is now also licensing Biosuccinium™. This is a clear advantage for companies who want to integrate bio-succinic acid production into their business offering, enabling competitive bio-based materials.
DSM – Bright Science. Brighter Living.™

Royal DSM N.V. is a global science-based company active in health, nutrition and materials. By connecting its uniquecompetences in Life Sciences and Materials Sciences DSM is driving economic prosperity, environmental progress and social advances to create sustainable value for all stakeholders. DSM delivers innovative solutions that nourish, protect and improve performance in global markets such as food and dietary supplements, personal care, feed, pharmaceuticals, medical devices, automotive, paints, electrical and electronics, life protection, alternative energy and bio-based materials. DSM's 22,000 employees deliver annual net sales of around € 9 billion. The company is listed on NYSE Euronext.
More information can be found at www.dsm.com.
Roquette – Offering the best of nature™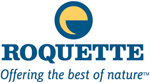 Roquette, a French family group with an international dimension, processes plant-based raw materials: maize, wheat, potatoes, peas and micro-algae. One of the 5 world leaders in the starch manufacturing industry, it offers its customers a wide range of products and solutions in the fields of human nutrition, pharmacy-cosmetology, paper/board, chemistry-bioindustry and animal nutrition. Today, Roquette is present in more than 100 countries and generates more than 2.5 billion euros in sales. The Group currently has 6,600 employees. Its development is based since its beginnings on a strategy giving pride of place to the long-term, innovation and a commitment to achieve. Its mission, "Serving men and women by offering the best of nature," is shared by all of the Group's employees.
Roquette Italia, located at Cassano Spinola (Alessandria province), is one of the Roquette Centers of expertise for fermentative products like Gluconic Acid. Roquette Italia has annual sales of more than € 350 million and employs some 460 people.
More information: www.roquette.com.