Bio-based chemicals Award Recognizes Reverdia's Innovative Approach within the Bio-based Chemicals Sector.
(March 13th, 2013) Geleen – Reverdia (www.reverdia.com) proudly announces that it has won the 2013 Bio-based Chemicals Award in the Partnership of the Year sector.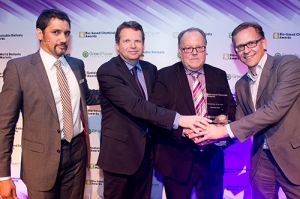 The knowledge and experience of DSM and Roquette combined with Reverdia's commitment to be the global leader in the market for sustainable succinic acid has allowed us to execute on our promise to be the front-runner in production and supply of sustainable succinic acid.
The number of high profile successful partnerships in this industry is outstanding. We are proud to be a part of this exceptional group of people. Being voted the 'hottest joint venture for the commercialization of a bio- based chemical' by Green Power is an honor for Reverdia and parent companies DSM and Roquette.

Reverdia received the award at this year's Bio-based Chemicals Conference (www.worldbiofuelsmarkets.com) held from March 12th to March 14th in Rotterdam. The awards recognize innovation and leadership in the development of truly sustainable and renewable fuel and chemical solutions in the global biofuels market.