Chemical & Engineering News, October 27, 2014
By Melody M. Bomgardner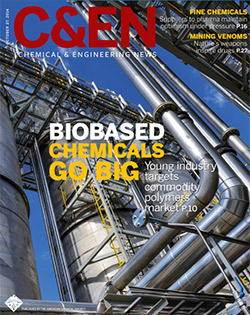 Corporate ingenuity and determination is starting to pay off, but products must still be muscled into the supply chain
Consumers who are paying close attention will soon notice a change in products they use every day. Some diapers, clothing, athletic shoes, and automobile tires currently made from petroleum will instead be made entirely from plants. Yet the quality and performance of these products will be identical to those made the old-fashioned way.
Customer interest in succinic acid has been high, but customers want assurances about future costs and availability, says Marcel Lubben, Reverdia's president. Potential users in cost-competitive polymer markets started asking the company about licensing the technology so they could make the raw material themselves.
In the meantime, Reverdia has made progress getting its monomer into the supply chain for polybutylene succinate, a biodegradable polymer used in food packaging, disposable cups, and cutlery.