Reverdia has earned the USDA Certified Biobased Product Label for its Biosuccinium™ bio-succinic acid. The USDA Certified Biobased Product Label verifies that the product's amount of renewable biobased ingredients meets or exceeds levels set by USDA. Biobased products are finished or intermediate materials composed in whole or in significant part of agricultural, forestry, or marine ingredients.
The label verifies that Biosuccinium™ bio-succinic acid is 99% biobased. Bio-succinic acid has applications in a variety of markets, such as biopolymers, polyurethanes, resins and plasticizers for end products including footwear, paint and packaging.
Marcel Lubben, President of Reverdia said, "Reverdia is committed to developing the biobased market so we're very proud to display this certification on Biosuccinium™, the most sustainable choice of bio-succinic acid, commercially produced from non-GMO feedstocks."
All biobased amount claims are verified by independent labs and monitored by the USDA. Consumers should feel secure in the accuracy of the biobased amount and be empowered in making better informed purchasing decisions.
"We are proud that Reverdia has earned the USDA Certified Biobased Product Label," said Ron Buckhalt, USDA BioPreferred Program Manager. "Biobased products add value to renewable agriculture commodities, create jobs in rural communities and help decrease reliance on non-renewable petroleum."
Labeled Biosuccinium™ is available now. The following is a sample of the label: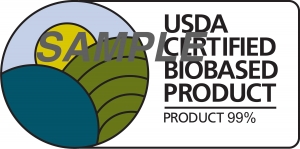 About USDA BioPreferred
The USDA BioPreferred program was created by the Farm Security and Rural Investment Act of 2002 (2002 Farm Bill), and expanded by the Food, Conservation, and Energy Act of 2008 (2008 Farm Bill). The purpose is to increase the purchase and use of biobased products. The United States Department of Agriculture manages the program. Products that meet the USDA BioPreferred program requirements carry a distinctive label for easier identification by the consumer. To learn more about the USDA Certified Biobased Product Label please visit www.biopreferred.gov.
About Reverdia
Reverdia is the joint venture between Royal DSM, the global Life Sciences and Materials Sciences company, and Roquette Frères, the global starch and starch-derivatives company. Reverdia takes a leadership position on quality, sustainability and reliability, focusing on market and application development.
Combining the knowledge and experience of DSM and Roquette, Reverdia produces, sells and licenses Biosuccinium™. More information can be found at www.reverdia.com.
About Biosuccinium™
Biosuccinium™ biobased succinic acid is a building block for the production of polymers and chemicals, including bioplastic polybutylene succinate (PBS), resins for paints and coatings, phthalate-free plasticizers and polyester polyols for polyurethanes. Reverdia's low pH yeast fermentation process has best-in-class carbon performance as demonstrated by the published cradle-to- gate LCA by the University of Utrecht.
Find out more @biosuccinium.
Media Contact
Kathryn Sheridan
Sustainability Consult
[email protected]
Europe: +32 496 116198
North America: (202) 470 3239